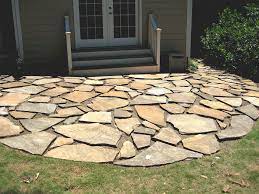 You don't need a large backyard to have a beautiful patio. In fact, flagstones are a great way to create an intimate space for entertaining or simply enjoying the outdoors. Flagstone Patios, Naturally. Here are some tips on how to use flagstones to create a patio in your small backyard:
1)Herringbone: This classic pattern is created by laying the flagstones in a zig-zag pattern. It's a great option if you want to add interest to your patio without going over the top.
2)Basket weave: As the name suggests, this pattern resembles a basket weave. It's created by alternating pairs of flagstones laid perpendicular to each other.
3)Running bond: This is one of the simplest patterns you can create with flagstones. It's created by laying the flagstones in rows, with each row offset by half a stone.
Once you've chosen your pattern, it's time to start laying the stones. If you're not sure how to do it yourself, you can always hire a professional. But if you're up for the challenge, here are a few tips:
-Start by excavating the area where you'll be laying the stones. This will help ensure that your patio is level. Next, spread a layer of gravel over the excavated area. This will help drainage and prevent weeds from growing up through the stones.
Now it's time to lay the stones! Begin at one end of the area and work your way towards the other. Remember to use gloves, as stone dust can be irritate your skin. Once all the stones are in place, fill any joints between them with sand or mortar. This will help prevent weed growth and keep your patio looking neat and tidy. Finally, mist the entire area with water and allow it to dry for 24 hours before using it. This will help set the mortar and prevent any cracks from forming down the road.
A well-designed patio can be a wonderful addition to any home, regardless of its size. By using flagstones, you can create an intimate outdoor space that is both beautiful and functional. So, what are you waiting for? Flagstone Patios, Naturally! Get started on your own flagstone patio today!